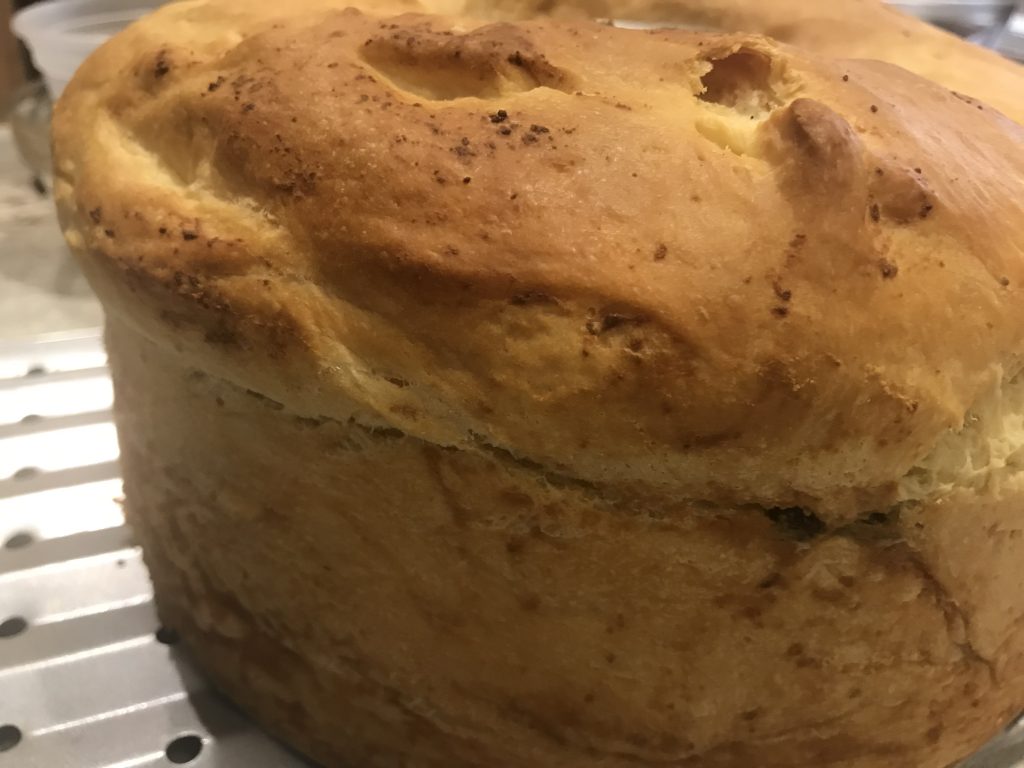 Cheese Babka Recipe
This celebratory, cheesy babka belongs on a festive Shavuot table, for sure. Read my story at the Jewish Week "Exotic Celebratory Breads for Shavuot"
Adapted from Beth Hensperger's The Bread Bible: 300 Favorite Recipes
Yield: One large cake
DOUGH
1 tablespoon active dry yeast
Pinch sugar
¼ cup warm water (105º to 115º)
½ cup (1 stick) unsalted butter, melted
¼ cup sugar
1 ½ teaspoons salt
2 teaspoons vanilla extract
½ teaspoon almond extract
¾ cup warm milk (105º to 115º)
3 eggs
About 4 cups unbleached all-purpose flour
2 tablespoons unsalted butter, melted, for brushing dough; or use egg yolk mixed with a bit of water
FILLING
1 ½ cups dry cottage cheese or ricotta
⅓ cup sugar
1 ½ tablespoons sour cream or créme frâiche
1 ½ tablespoons flour
1 egg
Grated zest of 1 lemon
½ teaspoon vanilla extract
3 tablespoons currants, plumped in 2 tablespoons rum or cognac for ½ hour and drained
TOPPING
3 tablespoons vanilla powdered sugar to sprinkle on the top or powdered sugar
INSTRUCTIONS
Sprinkle yeast and sugar over warm water in a small bowl and stir to dissolve. Let stand until foamy, about 10 minutes.
In a large bowl, combine butter, sugar, salt, vanilla, almond extract, milk, eggs, and one cup flour. Beat until smooth with a whisk. Add yeast mixture. Beat 3 minutes or until smooth. Add flour ½ cup at a time with a wooden spoon until a soft dough is formed.
Turn dough out onto a lightly floured surface and knead until smooth and silky, about 5 minutes. Be certain dough remains soft. Place in a greased bowl, turn once to grease top, and cover with plastic wrap. Let rise in a warm area until doubled, about 1 ½ hours. Meanwhile combine filling ingredients in a bowl, beat until smooth, and set aside.
Gently deflate dough, turn out onto a lightly floured board, and roll or pat into a 10×12 inch rectangle. Brush with melted butter. Spread with filling, leaving a 1 inch border all around the dough. Do not overfill. Roll up jelly roll fashion and pinch seams. Holding one end, twist dough about 6 to 8 times to make a rope. (If that does not work because filling overflows, just leave off the twisting). Form into a flat coil and place in a well-greased 10-12 cup kugelhopf mold or tube pan or two 9×5 inch loaves. Pinch ends together and adjust dough to lie evenly in the pan, no more than two thirds full. Cover loosely with plastic wrap or place inside plastic bag and let rise until even with top of the pan, about 45 minutes. After 30 minutes pre-heat the oven to 350º.
Bake for 40-45 minutes or until golden brown and a cake tester comes out clean. There will be a hollow sound when tapped. Let the bread stand 5 minutes in the pan, then transfer from baking pan to a rack to cool completely. Once cool, leave the babka alone for at least 4 hours or overnight, wrapped in plastic, before slicing. Sprinkle with the sugar, if desired.
For more about the #chocolatebabkaproject
Recent Posts
Zooming for Challah

Thank you to The Jewish Week's Food and Wine for running my story, "Zooming for Challah." The internet has been popping with real-time challah baking sessions since shelter in place began. These free pre-Shabbat meet ups nourish a hunger for recipes, relief, rituals, and relationships. Despite nationwide yeast and flour shortages, longtime bakers and novices

Read more ›