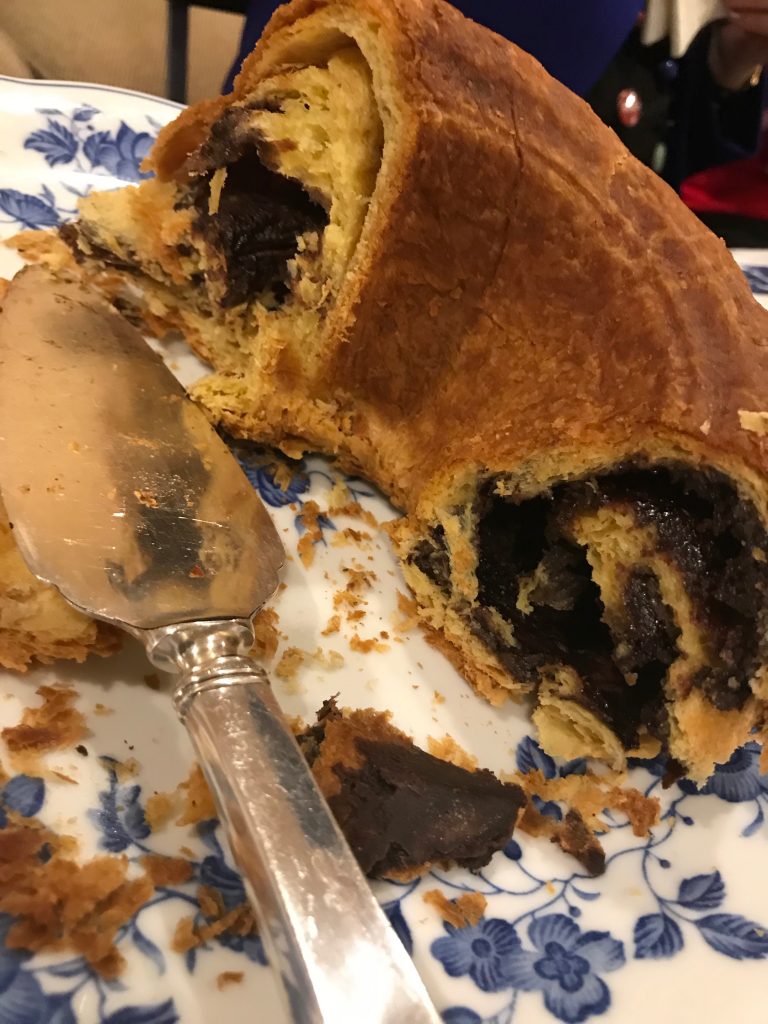 What is the Chocolate Babka Project?
Admittedly, by heritage I am more a German kugelhopf than an Eastern European babka, having eaten homemade kugelhopf at family celebrations in Los Angeles. Indeed when I mentioned my interest (obsession?) with babka to my German speaking father in LA, he looked puzzled and asked, "What's a babka?"At one point I wrote him a note that mentioned kugelhopf and he corrected me with the German spelling more familiar to him, gugelhopf. I had no idea what babka was until I moved to the East Coast as an adult. My research into chocolate for my book, On the Chocolate Trail, had me wondering about chocolate (of course) for babka fillings and curious about babka traditions altogether.
The babka boom in New York City, with varied recipes and plentiful babka spin-offs, enabled me to taste lots of babka in the last few years. Initially I was happy to let professionals supply them. Hoping to be thorough and with the help of babka loving friends, we hosted two Babkathons, tastings of chocolate babkas that happened to coincide with New York Marathons.
Locating and tasting them was one thing. But it felt overwhelming to try to bake a babka, especially given my limited baking and cooking skills. How could this neophyte baker ever manage a babka? Until early 2019, I had never once even baked a challah. Neither of my grandmothers, my mother, or my mother-in-law baked challah. I had been avoiding white flour and gluten. Using yeast was out of my culinary realm. I had no idea how chocolate or other filling got into the babka pastry. Should the babka be shaped into a loaf, a circle, a twist, or not? Mostly I wanted it to be the best babka ever.

So, I procrastinated. Before confronting any ingredients or instructions, I needed to research: read babka books (there's maybe one, so articles), speak to people about babka, scour babka recipes, and taste plenty of babka. Since New York has become the center of the babka universe, I scanned the New York Times digital archives to see if it might yield more about babka, how it came to be a New York food, and when chocolate entered the story. That surfaced a lot of hits for Polish babka, sometimes with nuts/ cinnamon or cheese. Seinfeld-speak echoed in my head: "That's a babka?" Where's the chocolate? What's a Polish babka anyway?

Along the way I found that many cultures enjoy similar yeasty, celebratory treats, what I have started calling "cognate bread cakes," with shared sources or ancestry. These special occasion, egg-rich loaves reflect a diversity that is at once distinct and also universal. In non-Jewish traditions they might include korovai, kulich, pandora, panettone, and more. In a Jewish setting, they extend beyond my family's Ashkenazi (Central European) centered menu to include Sabbath and holiday breads from Africa, the Mediteranean, and the Middle East. I I have managed to prepare and dipped deliciously into Shabbat breads such as Moroccan khobz, Ethiopian dabo, along with Yemenite saluf and lachuch. I have also had fun decorating an Ethiopian special occasion panbread called ambusha, a shlissel or key challah for the Sabbath after the end of Passover, and an elaborate 7 heaven (Los Siete Cielos) challah of Salonika for Shavuot. Oh, the scent of fenugreek, coriander, orange zest, and other spicings wafting from my oven and the fluff of warm bread in my mouth. I had underestimated the comfort of that multi-sensory blanket enfolding me.
These loaves showcase diversity and less familiar worldwide communities. They wander over boundaries of religion, culture, ethnicity, and race. Each mixes with home and homeland, often multiple homelands, as well as with religions. Some are leavened through worldwide dislocations and disenfranchisements and migrations. In a Joseph Campbell sense these are heroic foods, voyagers through time and space, from home to home, from generation to generation, victoriously returning to festive tables season after season.

Surprisingly, or maybe not, Jewish babka and Polish babka are related to each other and indeed also to kugelhopf. In the end I don't have to chose between these legacy foods. As my confidence grows with each bake, I still intend to craft my first babka. Sometime soon … maybe after do some more research.
I hope that you will share your stories, your baking tricks, and your insights at my facebook or instagram feed (@chocolatetrail). Stay in touch as the layers of the "#chocolatebabkaproject" unfold.
Recent Posts
Zooming for Challah

Thank you to The Jewish Week's Food and Wine for running my story, "Zooming for Challah." The internet has been popping with real-time challah baking sessions since shelter in place began. These free pre-Shabbat meet ups nourish a hunger for recipes, relief, rituals, and relationships. Despite nationwide yeast and flour shortages, longtime bakers and novices

Read more ›