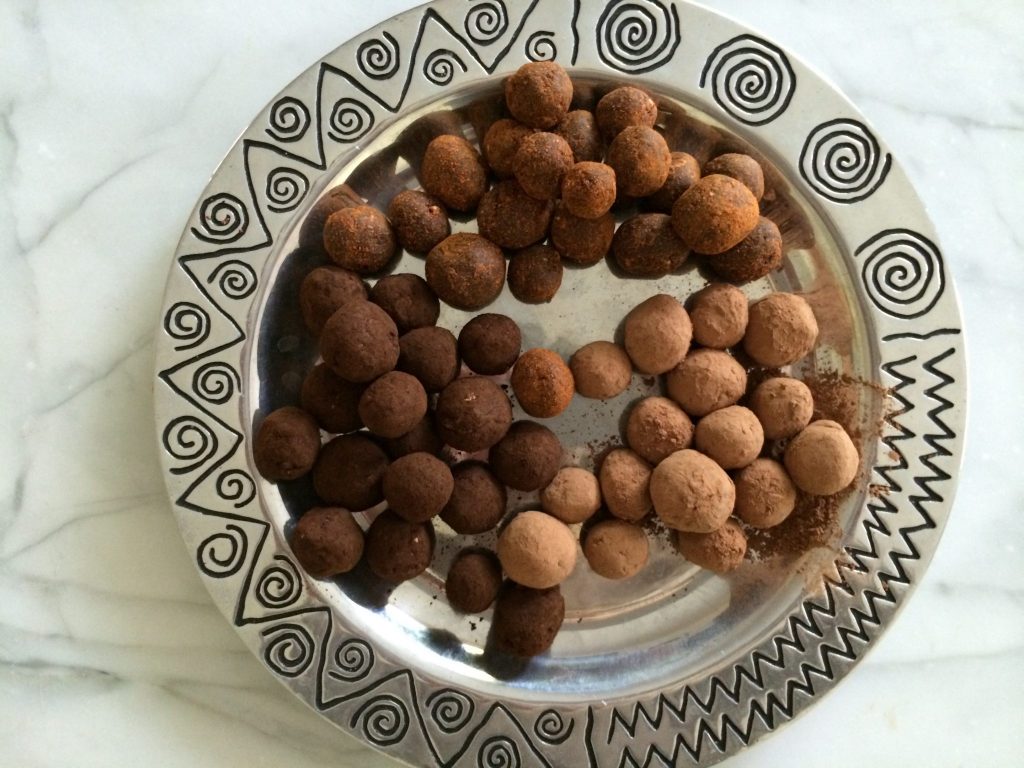 Super Food Chocolate for Super Bowl Sunday: Three Recipes
Try these super-easy-to-make chocolate treats for Super Bowl Sunday. They are especially appropriate since they include the super food, cocoa nibs. Your guests and family will happily dip into these savory and sweet temptations. The recipes are easily adaptable for small gatherings or large parties and will appeal to all ages. Prepped days ahead, these tantalizing snacks are healthier than most. 
Have a super food Sunday!
Wake Up Chocolate Chunks with Cocoa Nibs

The hint of pepper will spice up the game when you munch on these rich chunks. The healthy ingredients will moderate that calorie count-down. And, again, these contain cocoa nibs, the best super food for Super Bowl Sunday.
Ingredients:
• 1 pound dark chocolate, chips or broken into pieces; or cocoa nibs

• 1 cup almonds

• 1⁄2 cup raisins, dates, or other dried fruit

• 1⁄8 cup coffee beans

• 2 teaspoons cayenne pepper, to taste

• 1⁄2 cup unsweetened cocoa powder

• Granola or other dried cereal (optional)
Instructions:
1. Line a large baking sheet with parchment paper, aluminum foil, or waxed paper.

2. Melt the chocolate in a large heatproof bowl set over a pan of simmering water.

3. Remove from the heat.

4. In a food processor with the chop blade, combine the almonds, raisins, coffee beans, and cayenne.

5. Pulse until coarsely chopped.

6. Stir the cocoa into the melted chocolate.

7. Once the mixture is even and getting stiff, add the chopped nuts and fruits. 
Keep stirring.

8. Taste to check the spice level.

9. If the mixture is too moist and sticky, add more nuts, or matzah meal, or wait until firm enough to handle. (Cooling in the refrigerator will firm the mixture faster.)

10. Roll the mixture into balls and place on the prepared baking sheet.

11. Cool completely.

12. Remove from the baking sheet and store in a covered container.
Quantity: Approximately 20 chunks

Meringue Cookies with Cocoa Nibs

These stunning black and white additions to your dessert platter are made primarily of egg white. That makes them a rather light snack especially since they are fortified with the cocoa nib super food. These delicacies stay in the oven over night, forgotten. However you will not easily forget them once you taste them.

Ingredients:

• 2 large egg whites

• 2⁄3 cup sugar

• 1 cup chocolate chips, cocoa nibs, or both

• 1 cup pecans, coarsely chopped

• Pinch of salt (optional)

• 1 teaspoon vanilla extract

• 30-40 chocolate buds or kisses
Instructions:

1. Preheat the oven to 350ºF.
2. Line two or three baking sheets with parchment paper or aluminum foil.
3. Beat the egg whites until foamy.
4. Gradually add the sugar and beat until stiff.
5. Gently fold in the chocolate chips and/or cocoa nibs, and nuts.
6. Add the salt and vanilla.
7. Drop teaspoonfuls onto the prepared baking sheets.

8. Cap each cookie with a chocolate bud or kiss.
9. Place the pans in the oven; after about 1 minute turn off the heat.

10. Leave in the oven for several hours or overnight; ("Forget about them.")
11. Carefully peel the cookies off the paper or foil using a spatula.
Quantity: About 35 cookies
Cocoa Nibs Citrus Salad

This recipe uses in-season citrus fruits. This colorful and healthy addition to any buffet offers a great break from the junk foods that often accompany spectator sports. Cocoa nibs, pieces of cocoa bean, are the least processed form of chocolate available and perhaps the most healthful. With the super food cocoa nibs tossed in, it is perfect for Super Bowl Sunday.

Ingredients:

• 1 grapefruit, peeled (membrane removed, optional)

• 2 navel oranges, peeled

• 3 blood oranges, peeled

• 4 clementines, peeled

• Pomegranate syrup (optional)

• Several tablespoons cocoa nibs (try your local health food store or on-line)

• Pistachios, roasted and chopped (or whole)
Instructions:

1. Cut the fruit into bite-size pieces and place in a large serving bowl, preferably glass.

2. Add the pomegranate syrup to taste.

3. When ready to serve, sprinkle the cocoa nibs and roasted pistachios over the fruit salad.
Quantity: Fills a very large bowl.
An earlier version of this post appeared at the Huffington Post.
Recent Posts
Zooming for Challah

Thank you to The Jewish Week's Food and Wine for running my story, "Zooming for Challah." The internet has been popping with real-time challah baking sessions since shelter in place began. These free pre-Shabbat meet ups nourish a hunger for recipes, relief, rituals, and relationships. Despite nationwide yeast and flour shortages, longtime bakers and novices

Read more ›