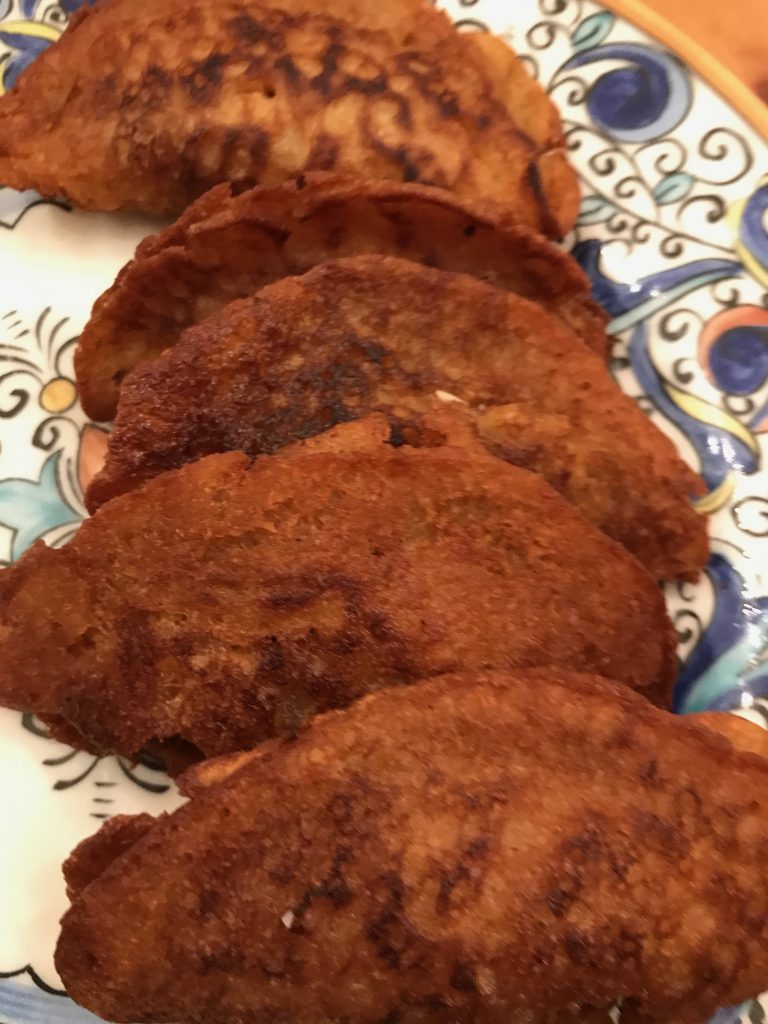 Atayef: Double Fried Filled Pancakes for Chanukah
Aka Ataïf, atayif, qata'if, qatayif, katayef, these pancakes may be filled with nuts or also prepared with cheese fillings for Chanukah or Shavuot. They are also popular at weddings spread with cream and rose petal jam or simply topped with pistachios or almonds. This recipe guides you through a nut stuffed option.

Read my story about "A Doughnut Recipe for Each Chanukah Night"
Prep time: 1 ½ hours
Rising time: 1 hour
Frying time: approximately 25 minutes
Quantity: About 12 large stuffed; about 30+ flat pancakes

adapted from Claudia Roden, The New Book of Middle Eastern Food
INGREDIENTS
For the batter:
1 ½ teaspoons active dry yeast
1 teaspoon sugar
1 ½ cups 110º water
1 ⅓ cups all-purpose flour
For the syrup:
2 ½ cups sugar
1 ¼ cups water
1 tablespoon lemon juice
1-2 tablespoons orange-blossom or rose water
For the filling:
2 cups coarsely ground or chopped almonds (or more traditionally walnuts)
3-4 tablespoons sugar
2 teaspoons ground cinnamon
And, vegetable oil for frying
INSTRUCTIONS
For the batter:
1.Dissolve the yeast with the sugar in ½ cup of the water. Let it stand in a warm place for 10 minutes, or until it froths. 2.Put the flour in a large bowl. add the yeast mixture and the remaining water gradually, beating vigorously, to make a creamy, lump-free batter.
3.Cover the bowl with plastic wrap and leave in a warm place for about 1 hour. The soft, almost liquid batter will rise, becoming bubbly and a little elastic.
4.Prepare the syrup while the dough is rising or earlier.
For the syrup:
1.Bring the water to the boil with the sugar and lemon juice and simmer for 10 minutes, until it is thick enough to coat the back of a spoon.
2.Then stir in the orange-blossom or rose water and simmer for a few seconds more.
3.Allow to cool, then chill in the refrigerator.

For the filling: Mix 2 cups coarsely ground almonds (or more traditionally walnuts) with 3-4 tablespoons sugar, and 2 teaspoons ground cinnamon.
To make the stuffed atayef:
1.When the batter is ready, rub a nonstick skillet with oil to grease with a thin film. Heat the skillet until it is very hot, then reduce the heat to medium.
2.Pour ¼ cup of batter into the skillet on a medium heat to form a 4-5 inch pancake. Tilt the pan or use a spoon to spread the batter into a round. Fry only one side of the pancake. Allowing one side to remain uncooked makes it possible to form the pancake in a crescent shape around the filling. The pancake will bubble and lose whiteness. When easily lifted from the pan, lay it on a clean cloth or plate for stuffing.
3.Place enough stuffing in the middle of each pancake on the uncooked side.
4.Fold the pancake over to form a crescent shape and pinch the edges firmly together to maintain the filling inside.
5.Deep fry, a few at a time in at least 350º, medium-hot oil about 1 inch deep, until pale brown. Turn them over.
6. Remove with a perforated spoon and drain on paper towels.
7. Dip them in the syrup while still hot and serve hot or cold. Or serve them with syrup on the side to let guests dribble on syrup.
8. Or, prepare them ahead of time and warm, covered, in the oven.
Recent Posts
Zooming for Challah

Thank you to The Jewish Week's Food and Wine for running my story, "Zooming for Challah." The internet has been popping with real-time challah baking sessions since shelter in place began. These free pre-Shabbat meet ups nourish a hunger for recipes, relief, rituals, and relationships. Despite nationwide yeast and flour shortages, longtime bakers and novices

Read more ›