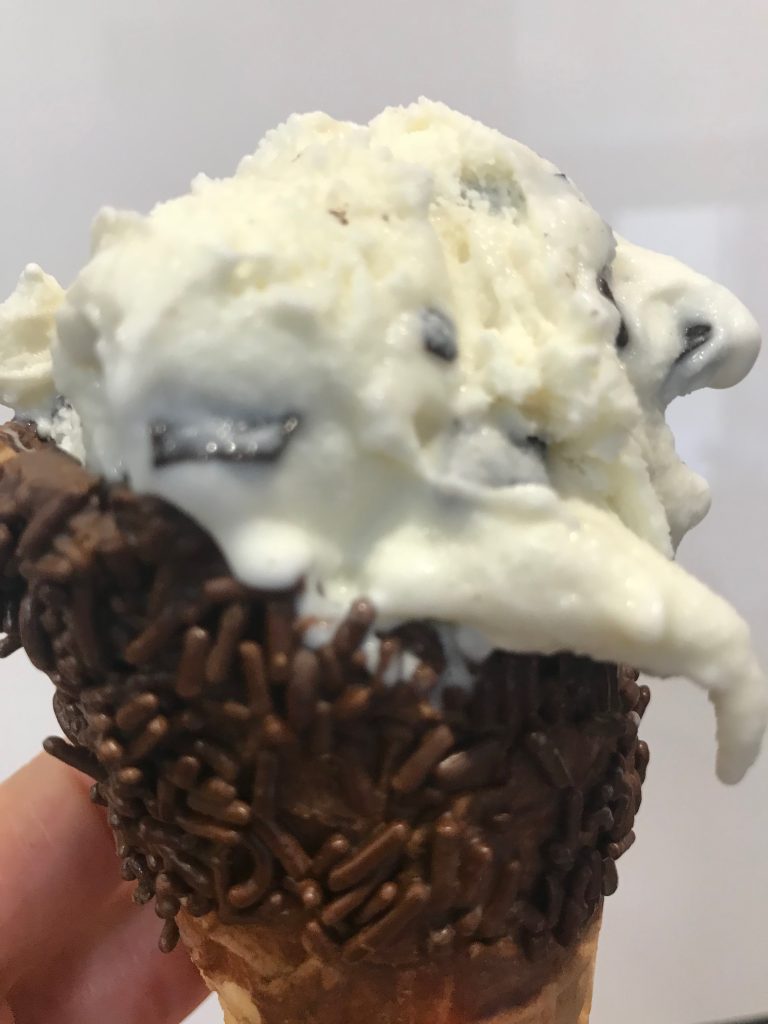 Celebrating Ice Cream Month with Chocolate
When needing a new word for ice cream for the revitalized Hebrew language, Eliezer Ben Yehudah turned to the Torah. Actually, he opened the Aramaic translation of the Torah by Onkelos to Exodus 16:14. There the Aramaic uses "glidah" in the passage that describes how manna fell in the desert like a fine, flaky frost on the ground.
It is precisely that frosty, icy aspect of ice cream that makes adding chocolate chips or chunks a challenge. Chocolate's melting point in the mouth is one of the tests of a quality chocolate. Cold impinges on that. Tasters know not to drink cold liquid before sampling chocolates. A chocolate made with a cocoa butter equivalent (CBE) such as vegetable oil or butter will melt differently from a cocoa butter-only bar. So what to do when adding chocolate into our ice creams?
Ice cream expert, David Leichman uses only very small chips of quality dark French Valhrona chocolate so the chocolate really becomes part of the ice cream. If you want a big chunk of chocolate remaining in your mouth, Leichman says he will give you a chocolate bar to eat after you finish your ice cream.
Ohio-based Jeni Britton Bauer of Jeni's Splendid Ice Creams prefers a dark 60% cacao from Askinosie, Callebaut, Green & Black or Valhrona. Another national company headquartered in Cincinnati, Graeter's, stirs molten chocolate into its French pot artisanal, small batches, rich product. Local rabbinic students have been known to compete to show off the largest chocolate slabs. The Peter's brand chocolate, is poured into the small batches of ice cream, then chopped with a paddle, yielding varying sizes of chocolate.
If you are making your own ice cream, you may want to follow the advice of  chocolate expert, Alice Medrich. Medrich argues for keeping the melting point of the chocolate matched to the frozenness of the ice cream. To keep the strong flavor of the chocolate without it turning gritty or chalky, melt the chocolate with some water, freeze it and then chop it into tiny pieces, that is, chill and chop. The bits are added to ice cream at the end of the churning.
However you decide to make it or buy it, keep in mind the Hebrew idiom, "pa'am shelishit, glidah." That is, "the third time there will be ice cream," which is said when coincidentally running into someone twice. Actually, I wonder, why wait until the third time. Just make it ice cream with delicious chocolate each time.
Recent Posts
Atayef: Double Fried Filled Pancakes for Chanukah

Aka Ataïf, atayif, qata'if, qatayif, katayef, these pancakes may be filled with nuts or also prepared with cheese fillings for Chanukah or Shavuot. They are also popular at weddings spread with cream and rose petal jam or simply topped with pistachios or almonds. This recipe guides you through a nut stuffed option. Read my story

Read more ›